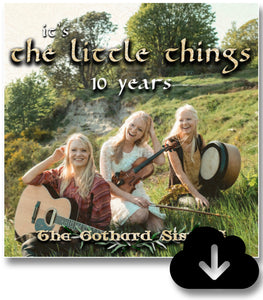 A 10-Year Anniversary Compilation Album to Celebrate the Best of the Gothard Sisters! 
In the summer of 2019, we officially marked 10
years of sisterly music-making as The Gothard Sisters. 

When we first started out we had no idea this musical adventure together would turn into the worldwide thing it has become, and we are so grateful to YOU.
Grateful for the listeners, the families, the dancers in the aisles, the concert-goers, our many coaches, teachers and mentors, our friends and fellow musicians we've met all over the world who always have an encouraging word or a funny story to keep us going.
To the agents and venues and promoters that took a chance on us and continue to support us every year, the fans who drive for hundreds of miles just to get to a concert, and of course the fans who show up in our shirts and sit in the front row at festivals.
You've been so energetically excited along with us as we journey through the wild and unpredictable world of music and the music business. Whether you've been following us from day one, or if you just discovered us this week - thank you.
Here's to the next ten years! And that's where the next part comes in…

To mark the occasion, we decided to release a compilation album called "It's the Little Things - 10 Years." The album has 18 songs and includes two never-before-released tracks: our cover of Country Roads (by John Denver), and a new, updated, 2019 version of our song It's the Little Things. 

Listen to eighteen fan favorite Gothard Sisters songs, including Hummingbird, Flying Sails, Scarborough Fair, Willow's Waltz, Danny Boy, Grace O'Malley and more.
So - if you're looking for one album to listen to as a brand new baby Gothard Sisters fan or if you would like to introduce someone else to their music - this one is a great choice.
High quality Mp3 Files

Cover art included
Instant download - zip file MB
Looking for the CD Version? Click Here
Want to stream the album? Click Here.
Track List: 
Hummingbird

Midnight Sun

Scarborough Fair

The Bandit
Rose, Marie and Heather
Mazama Mornings
Willow's Waltz
Queen of Argyll
Against the Grain
Flying Sails
Grace O'Malley
Marching On
Danny Boy
Fairy Dance Jig
The Landing
Cat and the Fiddle
Country Roads
It's the Little Things (2019 version)
Released August 9th, 2019 
PLEASE NOTE: this download will only work if you have a desktop computer to open the files. If you are mobile-only, we suggest getting the album on iTunes here.