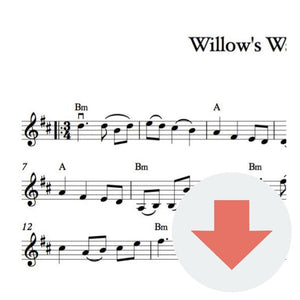 Instant PDF download - Sheet Music for fiddle with guitar chords.
Includes an mp3 recording of fiddle and guitar playing the tune as an example to help you learn!
A Note from the Gothard Sisters:
We want to say a big THANK YOU for spending time exploring our shop. We've been independent artists for nearly 13 years now. That means we don't have the support of any major record labels - we rely 100% on our fans to help us continue making music and memories.

So if you purchase an Album - digital or physical, a T Shirt, some sheet music, a mug or a hoodie directly from us - you can be confident that you've done a great deed in directly supporting an independent band.
Thank you! 🌞
Greta, Willow and Solana
The Gothard Sisters